Our Story
Head Chef, Toshihiro Uezu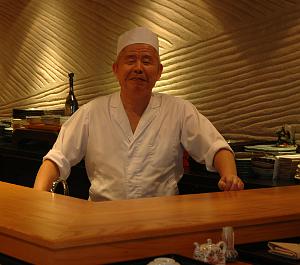 Mr. Uezu was born shortly after World War II on Christmas Eve, 1946 in Ogaki, Gifu Prefecture, Japan. In 1965 he moved to Tokyo with aspirations of becoming a sushi chef, and quickly found work as an apprentice at the original Kurumazushi Restaurant in Shinbashi district, near the world famous Tsukiji Fish Market.
Meanwhile in New York City in 1971, the venerable Japanese Restaurant Saito was in the process of rebuilding after a tragic fire, and looking to add a traditional sushi bar to the new restaurant. Mr. Uezu's growing reputation made it all the way to Madame Saito, and she recruited him to make the move across the Pacific to head up the new sushi bar. So in 1972 Mr. Uezu accepted and headed to America.
After three years at Saito, Mr. Uezu was approached in 1975 for the position of head chef at Takesushi, and once again he accepted.
With his American dream becoming a reality, Mr. Uezu left Takesushi in 1977 to found his own restaurant at 48th and Madison as head chef and part owner. In an homage to his past, he named the new restaurant Kurumazushi after the restaurant in Tokyo that first taught him the trade. In 1984, Kurumazushi moved to 56th Street, between 5th and 6th Avenues. And in 1996, it moved again to its current location on 47th Street between 5th and Madison.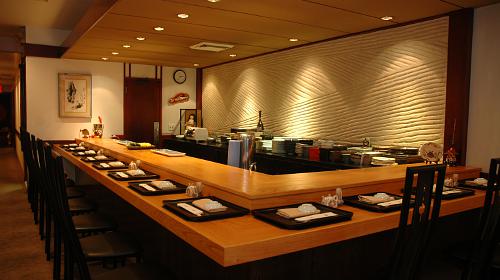 For 51 years, Mr. Uezu has been serving some of the finest sushi in America, long before it became the trendy and popular food that it is today. We welcome you to reserve a seat at the bar, and enjoy the finest sushi and sashimi you'll find at the experienced hands of our head chef, Toshihiro Uezu.
Our Restaurant
The Kurumazushi Restaurant is a traditionally-styled Japanese sushi restaurant, centered around the sushi bar. In addition, we have a small wet bar, as well as a small dining room for a little more subdued experience. We also have a Japanese-style washitsu room that can be reserved in advance for the ultimate in private dining.